2015 International Fitness Industry Trend Report – What's All the Rage?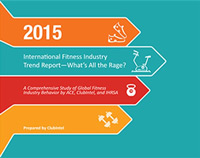 This comprehensive study by ACE, ClubIntel, and IHRSA explores the offerings of fitness professionals and gym operators around the world, and quantifies the data to reflect growth in trends over the past two years.
With the collective goal to shed light on what equipment, programs, services, and technology the fitness industry is adopting and how these adoption rates are changing over time, ACE, IHRSA, and ClubIntel gathered behavioral data from a broad spectrum of industry professionals and business segments across the globe — representing over 11,000 health and fitness businesses.
The study explores more than 90 industry trends across three broad categories — programs, services, and training protocols; equipment and facilities; and technology — and determines if they are emerging, niche, growing, or maturing.